Investment Outlook 2020
The Age of Uncertainty
06 December 2019
Message from our Global CIO
Joanna Munro
Global Chief Investment Officer, HSBC Global Asset Management
Welcome to our Investment Outlook for 2020, as we continue to live in an "age of uncertainty".
2019 has been a year of contrast. On one hand, the narrative of the year in financial markets has been rather pessimistic; trade tensions, policy uncertainty, and recession worries have dominated the news headlines. On the other hand, investment market performance has been impressively strong – right across Fixed Income, Equities, and alternative assets.
How the "age of uncertainty" dynamic developed in 2019, and why it still resulted in strong investment market returns, are the first questions we deal with in our Investment Outlook. Our Chief Strategist, Joe Little, explains how a number of factors have been important with a focus on the global pivot toward policy easing. This downward pressure on the discount rate has been the principal catalyst for strong investment market performance in 2019.
Our Chief Strategist and Global CIOs then outline their views on what is coming in 2020, first in terms of the macro-economic and investment strategy outlook and then for asset classes. In Liquidity and Fixed Income our CIOs Jonathan Curry and Xavier Baraton focus on the "lower-for-even-longer" rate environment and what that means for our duration and credit strategies. In the Equities space, Bill Maldonado reflects on a year where corporate earnings have been under significant pressure, but where there are signs of optimism and momentum building, not least given the valuation of Asian Equities today. Finally, Xavier Baraton shares our investment views across our Alternatives capabilities – in Real Estate, Hedge Fund selection, Private Markets, and Infrastructure – where we continue to see selective, but interesting return-enhancement and diversification opportunities.
We hope you enjoy reading.
Joanna Munro
Global CIO
Macro and multi-asset outlook
---
Q&A with Joe Little
Global Co-CIO Multi-Asset, Global Chief Strategist
Macro and multi-asset outlook
Joseph Little, Global Co-CIO Multi-Asset, Global Chief Strategist
Can you summarise asset market performance year-to-date?
Investment markets have performed strongly across the board in 2019, with positive performance across fixed income, equity, and alternative asset classes. The breadth of positive returns has been impressive, although not unusually so.
Figure 1: Asset class performance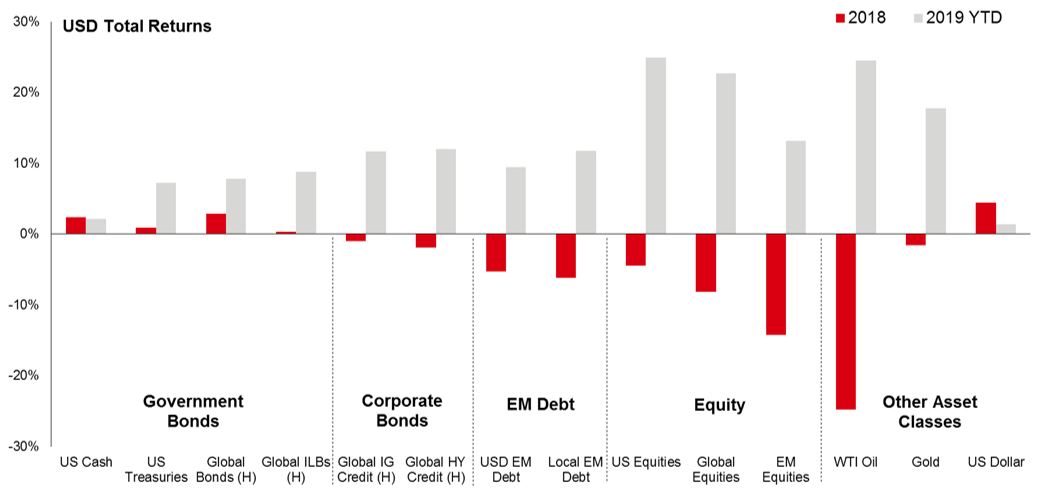 Source: Bloomberg, HSBC Global Asset Management. Data as of November 2019. All asset class returns shown as USD total returns (unhedged) unless stated. H - Refers to currency-hedged USD total returns.
Past performance is not a guarantee of future performance.
Global equities are the clear standout; total returns are over 20 per cent on a US dollar basis. Within that, "growth equities" have outperformed "value", and technology has been the strongest sector; consequently, US equities have outperformed the rest of the world in 2019, as they did in 2018. Meanwhile, emerging market equities have lagged.
Fixed income total returns have been strong too. Global bonds and credits have returned around 10 per cent - significantly ahead of long term expected returns at the start of 2019. More exotic fixed income strategies have also performed well. And, in the alternative strategies area, we have seen particularly strong risk-adjusted performance in private equity and hedge funds.
This backdrop of robust, positive cross-asset class returns has created a very benign environment for multi-asset investors. A global 60/40 portfolio has delivered over 15 per cent in total returns during 2019. Bonds have acted as "positive return hedges" for equity risk, which has boosted 60/40 risk-adjusted returns too.
Overall, it has been an impressive year for asset class performance. The quantum of total return is high both in absolute terms, and relative to our own assumptions of long-term expected returns. All the more striking when set against the political and economic uncertainty that has characterised 2019.
Global equities outlook
---
Q&A with Bill Maldonado
Global CIO Equities, CIO Asia Pacific
Global equities outlook
Bill Maldonado, Global CIO Equities, CIO Asia-Pacific
Can you give us an overview of global equity markets in 2019?
2019 has been aptly described as a "bull market born on pessimism" by our Chief Strategist - Joe Little (quoting Sir John Templeton). For most of the year market sentiment has, in our opinion, been overly negative even as equity markets notched up solid gains amidst a slew of accommodative policies from central banks across the world.
Despite the rally in the global equity markets – led by the US and Eurozone, with Asia and other parts of the emerging markets (EM) universe bringing up the rear – we have to acknowledge that global growth concerns, trade conflicts and other uncertainties have had an impact on corporate profitability. There has been a well-recognised slowdown in earnings growth across regions as illustrated in the chart below, but at the same time, we have seen recovery in forward earnings growth amidst improving economic data. This positive momentum in earnings expectations has not been fully priced by the market, leading to an increased degree of undervaluation in spite of rising equity prices.
Figure 4: Trailing EPS growth has slowed globally… but forward earnings expectations are improving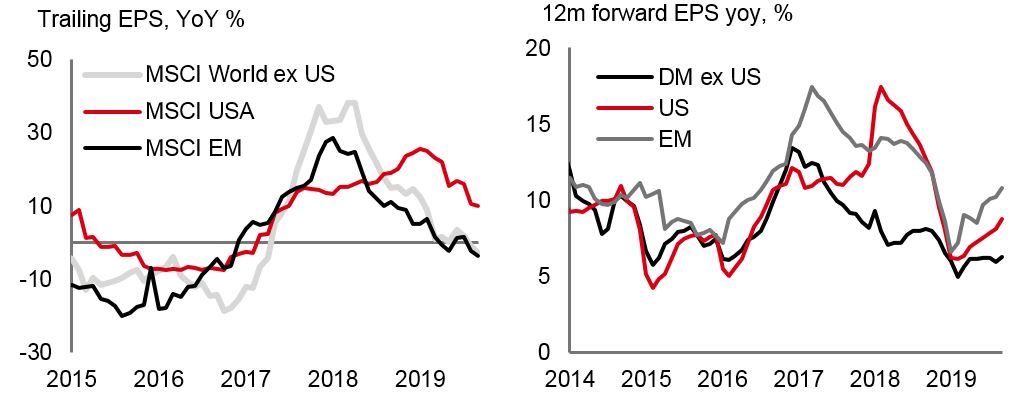 Past performance is not a guarantee of future performance. Any forecast, projection or target is indicative only and is not guaranteed in any way.
Source: Bloomberg, HSBC Global Asset Management, data as of October 2019.
We remain constructive on global equities in 2020, against the backdrop of a potential cyclical upturn driven by a rebound in manufacturing across major manufacturing powerhouses, including the US, China and Germany. Arguably, amidst the ongoing destocking of inventory, even a small increment in demand could potentially create a notable pickup in the manufacturing sector. For example, we have already seen signs of recovery in the tech and semiconductor industries in Asia. Outlook for these industries has improved with better visibility of the turnaround in the flash memory industry, and because of demand driven by new applications in 5G, AI, and automotive segments.
While US-China trade tensions have dragged down global equity market sentiment in 2019, we think trade pessimism has already reached its peak. It is difficult, if not impossible, to predict how a potential trade deal will eventually pan out, yet we can see that investors have been tempering their reactions to trade conflict-related news in recent months, instead focusing on other market drivers such as the Fed's rate direction and global growth indicators. This is partly because, instead of speculating on the hard-to-predict trade deal per se, the market has begun to focus on the possible impact of trade tensions on macroeconomic variables such as wage growth and inflation, and in turn, their impact on the policy stance of central banks. Going into 2020, major global central banks are expected to remain accommodative to prepare for any possible risk of slowdown, as the Fed re-grows its balance sheet and the ECB and the Bank of Japan continue their asset purchase programs.
Within emerging markets, Asia stands out in our view. Asian equities underperformed other regions in 2019, with MSCI Asia Pacific ex Japan returning just over 10 per cent YTD, primarily because of worries over a slowdown in China, the largest economy in the region. This has created a compelling valuation discount in the asset class. If the aforementioned manufacturing upturn takes place, or if there is a pickup in China's growth in 2020, we may see a material rebound in Asian equities, potentially led by Chinese equity markets.
Figure 5: Asia ex Japan equities trading at an attractive discount vs US market
Trailing PB relative to US

Past performance is not a guarantee of future performance.
Source: Bloomberg, MSCI data as of 30 September 2019
We remain overweight in China. China's economic indicators have started stabilising and it seems that the economy is now in the midst of slowly regaining momentum. Chinese policymakers have introduced adequate fiscal and monetary stimulus measures to support growth, as exemplified by China's rising infrastructure spending, increased issuance of local government special bonds, and cuts in value-added tax and individual income tax. The latest consumption and manufacturing data have added to the narrative of growing resilience in the Chinese economy and its ability to withstand external shocks, thanks to robust domestic consumption. Consensus earnings forecasts for the country remains one of the highest in Asia thanks to ongoing policy support that is expected to reduce taxes and lower funding costs for businesses.
For the rest of emerging markets, India also looks positive thanks to the unexpected corporate income tax cuts and ongoing implementation of its reform agenda to upgrade infrastructure, raise productivity and improve governance. At the same time, we are less convinced about emerging market equities in the EMEA region owing to sluggish activity, subdued demand, and importantly, growing political uncertainties. We are also neutral on LatAm owing to their deteriorating economic growth.
While we remain constructive on developed market equities, we see stronger earnings growth recovery in emerging markets in 2020. US economic and earnings growth remains relatively robust and we do not think the risk of a recession is imminent. As for Europe, while we have seen a manufacturing slowdown particularly impact Germany and drag the region to near-zero growth, equity prices should pick up if investors become less bearish about manufacturing going forward. Consumer activities, which can drive prices of domestic stocks, may be another positive catalyst. In the UK, while Brexit developments are to be watched, sterling, rather than the stock market, will be exposed to the most direct impact. This is attributable to the fact that two-thirds (for FTSE 100) or half (for FTSE 250) of revenues of FTSE companies originate from overseas. As for Japan, the corporate restructuring story will continue to play out and drive markets, despite the lack of economic growth. While the country's economy has been faltering owing to its aging population, reliance on debts, close-to-zero rates and tightened fiscal conditions (increase in VAT), we expect to see long-term improvements in governance such as unwinding of cross-shareholding. The central bank's asset purchase program to buy domestic equities through ETFs will also provide support.
Trade conflicts will continue to draw investors' attention in the new year, though the market reactions to related headlines are likely to be less significant. Instead, investors including us will be more focused on the progress in the global growth recovery story as any major disappointments on that front could easily derail a pickup in the asset markets. While we should be wary of the Fed's policy language, it is likely than the Fed and other major central banks will remain accommodative and react to any signs of slowdown. Political uncertainties ranging from Brexit to Hong Kong will also continue to have an effect on equity markets.
In the run-up to US presidential elections in 2020, there are certain developments that may need to be monitored more keenly including US-China trade relations. However, in our experience, the results of the election are less of a concern as markets have typically tended to shrug off early apprehensions and expectations and chart their course, irrespective of the parties or candidates that assume power.
Global fixed income outlook
---
Q&A with Xavier Baraton
Global CIO Fixed Income, Private Debt and Alternatives
Global fixed income outlook
Xavier Baraton, Global CIO Fixed Income, Private Debt and Alternatives
Can you tell us more about the impact of further central bank easing?
Amidst the challenges to global growth this year, a dovish policy pivot by central banks has driven strong returns across fixed income segments. Preliminary indications, along with market sentiment, indicate that the easing by the Fed and ECB have achieved their respective goals of extending the economic cycle.
While we expect slight improvement in economic growth going forward, the global economy remains vulnerable to shocks as part of the ongoing theme of this monetary-fuelled recovery. Excess liquidity and low yields are having limited impact on appetite to invest and borrow, due to high leverage on balance sheets already.
Global liquidity outlook
---
Jonathan Curry
Global CIO Liquidity, CIO USA
Global liquidity outlook
Jonathan Curry, Global CIO Liquidity, CIO USA
What has happened in money markets in 2019?
The year certainly started off with a surprise, or 'pivot', for the money markets as the Fed moved to a rate cutting bias in January. Our response has been to extend weighted average maturity in our liquidity funds. This allowed us to slow the impact of rate cuts on the yield delivered. We remained cautiously optimistic that the global economy would continue to grow around trend in 2019. With this as our base case, it supported our positive view on higher quality credits in our money market fund (MMF) investable universe. We maintained a longer weighted average life across our main liquidity funds, taking advantage of steepness in the credit curve to support fund yields.
Figure 7: USD IBOR-OIS Spread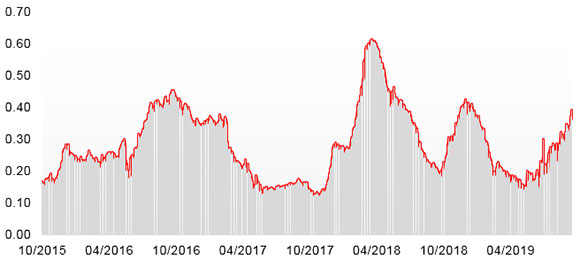 Past performance is not a guarantee of future performance. Any forecast, projection or target is indicative only and is not guaranteed in any way.
Difference between LIBOR and the corresponding maturity Fed Fund swap rate.
Source: Bloomberg, HSBC Global Asset Management as of 4 October 2019.
2019 also saw the culmination of European MMF regulatory changes that were implemented early in the year. The implementation went smoothly across the industry, which was positive for investors in European domiciled MMFs. Assets under management in AAA-rated, short-term MMFs has grown in 2019, serving as a vote of confidence in the regulation and continued value of MMFs.
The new European regulations require funds to put in a redemption fee or gate if weekly liquidity falls below 10 per cent; emphasizing the importance of liquidity risk management. These liquidity mechanisms were already in place in most MMFs, and we are very supportive of them as a tool to protect investors. Clearly all MMFs should be working towards minimising or avoiding reaching the trigger. Nonetheless, liquidity risks are often neglected by investors who take comfort in individual investor concentration limits. However, if these are set too high it can be quite easy for a fund to have a very concentrated investor base without surpassing the prescribed individual concentration caps. In this scenario, it could take as little as two large investors unexpectedly redeeming to cause a major issue.
There is a cost to maintaining higher liquidity, and some more nuanced parts of the new regulation. We are seeing different risks being taken on post regulation, particularly with extension of asset-backed commercial paper (ABCP) maturities. Typically, those were in the 1-3 month maturity range. Now we are seeing an increase in exposures out to 6 to 12 months. This raises not credit, but liquidity concerns from our perspective. Due to the idiosyncratic or systematic risks in the banking sector, it is our view that the ABCP issues won't be as liquid as the debt issued by the same bank ABCP sponsor.
Outside of extended ABCP maturities, we are broadly seeing investors looking to push the envelope in how far they are willing to extend tenors on riskier credits. As investors seek better yields in markets with low or negative rates, they may be taking on more risk than their objectives dictate. Whilst there is this sense that MMFs are all AAA-rated and largely homogeneous, this is not truly the case. Investors should understand a fund's approach and what type of tail risk they might be exposed to, and how that tail risk is being managed.
ESG-screening is becoming a growing consideration for liquidity funds, with a number of ESG-focused MMFs launched in 2019. As sustainability becomes a greater focus across industries, treasury teams will increasingly need to consider it in order to support their firms' objectives. There will need to be a lot of thought put into how they create a policy around sustainability for treasury investment purposes. It is much simpler for corporate investors to think about credit; there are only three global credit rating agencies, which are long established, with clear methodologies that are generally understood. That is very different in comparison to evaluating sustainability. There are many more providers who do some form of scoring. Some are very specific in what they are focusing on, while some are aiming to capture the wider responsible investing spectrum. This creates a far more challenging market to understand, and there are currently knowledge gaps. As such, we expect ESG consideration within MMFs will be an evolving story going forward.
Transition to alternative benchmarks to IBORs (interbank offered rates) is another developing issue. We are still 2 years away from the formal demise date for certain IBORs, but there is a lot work that still needs to be done by all financial market participants to be prepared. It affects many areas for us as an asset manager, but also for our clients. There is still a question of whether there will be a market-wide solution for securities that reference an IBOR due for demise. And whilst the ARRC in the US (Alternative Reference Rates Committee) is looking at a market-wide solution for this, it requires legislative change in the US, which is by no means certain. There is a risk that impacted securities could experience a change in the value or nature of the security itself. As such, the next couple of years will require significant work and preparation to avoid unexpected impacts to investors.
Global alternatives outlook
---
Q&A with Xavier Baraton
Global CIO Fixed Income, Private Debt and Alternatives
Global alternatives outlook
Xavier Baraton, Global CIO Fixed Income, Private Debt and Alternatives
How have alternatives fared?
Like traditional asset classes, alternatives fared well in 2019, delivering strong returns with unique characteristics that proved beneficial for portfolio diversification. Private equity and hedge funds delivered particularly strong risk-adjusted returns.
Spotlight on Asia
---
Bill Maldonado
Global CIO Equities, CIO Asia Pacific
2020 Asia Investment Outlook