Responsible Investment Insights
Responsible Investment Insights - D,E & I
12 July 2022
In a nutshell:
According to a McKinsey & Company survey, the most ethnically diverse executive teams boast nearly 40 per cent more likelihood of outperformance on profitability
The dual performance and societal benefit makes this issue of relevance to all
For investors, growing corporate disclosure on diversity data supports integration into ESG considerations
Why racial equity matters for investors
Quantifying the impact of social factors on corporate performance can be a challenge. Yet, market valuations are increasingly based on intangibles. From less than a fifth of the assets of S&P 500 companies a half-century ago, intangible assets are now approaching 90 per cent of the total.1 The challenge is worth it. A recent McKinsey study found that firms in the top quartile of gender diversity for executive teams are 25 per cent more likely to deliver above-average profitably than those in the bottom quartile. Those in the top quartile of ethnic diversity have been even more impressive – boasting nearly 40 per cent more likelihood of outperformance.2 To this point, ESG considerations are expanding to include race more prominently alongside gender diversity.
Background
The Black Lives Matter movement and racial justice protests in 2020 pushed the topic of racial equity into the spotlight. Alongside this, inequalities laid bare by the pandemic contributed to a focus on companies' treatment of minorities, often front-line workers, who were about four times more likely to be hospitalised from Covid-19 and died at a rate roughly three times higher in the US during 2020.3 As shown below, race continues to be a factor in employee roles and pay.
US hourly wages by race and level of education ($, 2019)

Source: Economic Policy Institute 2020, HSBC Global Research, February 2021

1 2019 Intangible Assets Financial Statement Impact Comparison Report, Ponemon Institute, April 2019
2 Diversity wins: How inclusion matters, McKinsey & Company, May 2020
3 HSBC Research, CDC, as at 30 November 2020
Considering the societal and performance benefits of improved racial equality, the issue fits squarely into ESG investing priorities. Accordingly, the investment industry is adopting policies to support measurement and progress. For instance, UK-listed companies will now need to provide data on the gender and ethnic diversity of their board and executive management teams, along with explanations in instances where board diversity targets are not met. On the other side of the Atlantic, Nasdaq-listed companies will likewise have to disclose statistics on the composition of their boards starting this year. Diversity targets inclusive of race also apply, with companies having a two-to-four-year grace period to achieve targets or explain shortfalls.
More transparency should bring more accountability. As such, new disclosure requirements can help hasten progress that has been slow moving thus far, per the chart below. Fortune 500 members - the largest 500 American companies - continue to fall far short of achieving ethnic diversity in their boardrooms. While there has been progress in increasing diversity, most of that progress has come in the form of white female directors.
Fortune 500 Board Composition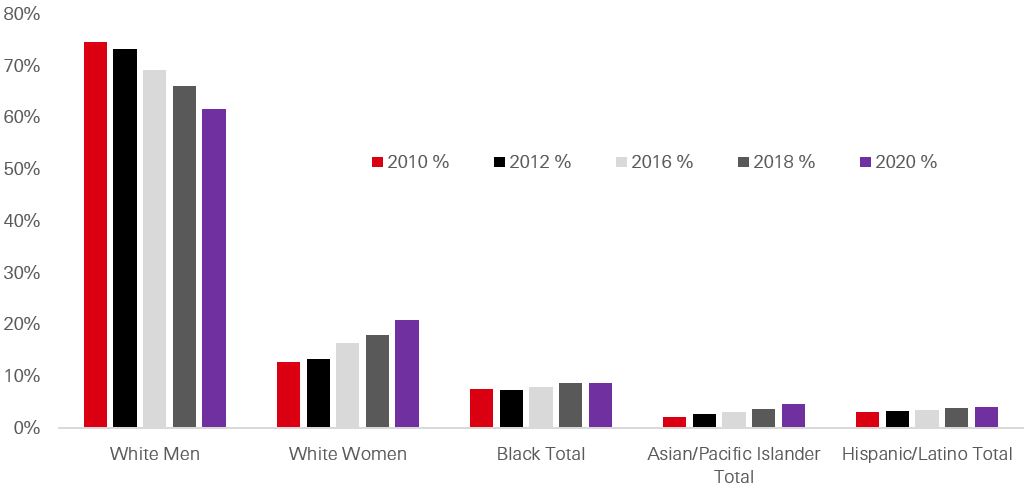 Source: Deloitte, Alliance for Board Diversity, Missing Pieces Report, 2021
The promising aspect of this chart is that an emphasis on gender diversity over the last decade has started changing the make-up of many boards, which is where the highest level of decision-making occurs. Expanding that emphasis to ethnic diversity can contribute to further progress, broader societal impact and performance uplift from the improved decision-making that comes from more diverse groups, as proven by several studies.4
4 Why Diverse Teams Are Smarter, Harvard Business Review, November 2016
Connecting racial equity and performance
Like many ESG considerations, the dual performance and societal benefit makes this issue of relevance to all. A study from Harvard researchers on the performance of venture capitalists offers a useful case study, given the direct impact of VC investors on their target companies, along with measurable outcomes. In the US, less than a tenth of VC partners are women, while around two per cent are Hispanic and less than one per cent are black. Yet, the more similar the investment partners, the lower their investments' performance. Shared ethnicity among all partners reduced an investment's comparative success rate by around 30 per cent. More profitable investments and fund returns on the other hand, were the product of improved diversity.5 The creative thinking generated by more heterogeneous groups has clear value within the competitive environment of start-ups – like the value identified in diverse executive teams in more mature companies.
For investors, the crux of the issue is how to ensure exposure to companies with the right leadership to deliver suitable returns on capital. New disclosure requirements for diversity data will help provide more clarity on the make-up of company leadership, enabling quantitative analysis and comparison. This can be incorporated within a robust ESG framework, becoming an integral component for evaluating societal impacts. Yet reporting on diversity metrics is still in its early stages. There will be many gaps, at least initially, and clearly a predominance of laggards on progress in racial equity for the time being. This makes engagement a priority and key tool.
Focus on accountability
Our responsibility to engage with companies on behalf of our clients is taken seriously. Where disclosure is not forthcoming or there is resistance to necessary change, our actions take the form of shareholder resolutions and voting against boards of directors which are not addressing the issue. Based on our revised voting guidelines set this year, we expect UK FTSE large and small cap companies, for example, to appoint at least one director from an ethnic minority background. In the US, we follow the same approach for companies in the Russell 3000 or S&P 1500 indices. From next year we will expect S&P 1500 companies to have two ethnically diverse members. We will vote against the chair of the nomination committee or relevant directors of companies not meeting those expectations and lacking a credible plan in place to do so.
We realise different markets require different considerations. Markets in Asia, for instance, require a more nuanced approach to defining and measuring ethnic diversity. And where local laws in particular European markets prevent the collection of personal ethnicity data, proxy indicators must be established instead. Wherever companies are situated, a fiduciary responsibility to clients means asset managers should ensure that the leadership of companies they invest in is suitably positioned to deliver sustainable returns on capital – with the evidence showing us that requires leaders which aren't all cut from the same cloth.
5 The Other Diversity Dividend, Harvard Business Review, August 2018
Of course, we must also look inwards to progress change. The asset management industry itself remains quite homogenous. In London, a global financial centre, nearly two-fifths of the population identify as Asian and 13 per cent as Black, yet only a tenth of individuals working within the asset management industry identify as Asian and one per cent as Black.6 A 2018 study identified just 12 black fund managers in all of London.7 As a firm we have committed to reducing these imbalances, making changes to the make-up of our own board of directors and having signed on to charters and initiatives generating a more diverse pipeline of talent into our firm. We also know that a more diverse entry-level cohort does not address barriers to advancement through the senior ranks of decision-making. Our belief in the value of transparency means we are applying this to ourselves. Collecting data on the characteristics of our own organisation has enabled an understanding of where biases are hindering diversity at senior levels, and supported action plans that are reversing historical imbalances.
Looking forward
Corporate impacts on racial equity ultimately encompass much more than representation. Connected issues such as pay and benefits gaps, access to opportunity and many others need to be addressed. The chart below highlights that while it is now commonplace for companies to implement measures aimed at tackling diversity deficits and broad racial biases, pay equity for instance, remains largely overlooked. Of the roughly 40 per cent of America's largest employers that are carrying out racial pay equity analysis, only half disclose their actual pay gaps.8
Racial equity actions being undertaken by America's largest 100 employers

Source: Corporate Racial Equity Tracker, Just Capital, May 2022
Realistically, addressing racial equity is not the primary goal for most investors. However, companies need access to capital to grow and thrive, providing investors with the ability to hold companies accountable for change. That ability intersects with proven performance benefits in this case. Thus, incorporating racial equity into ESG considerations and investment decision-making should continue to grow in practice. This will be to the benefit of investors and more equitable outcomes across companies and societies.
6 Ethnicity in Investment Management, The Investment Association, The Diversity Project, March 2021
7 Diversity in Portfolio Management, New Financial, September 2018
8 Corporate Racial Equity Tracker, Just Capital, May 2022