Chinese Equity - mid-year outlook 2022
Poised to regain growth momentum
01 July 2022
Chinese Equity - mid-year outlook 2022
China's relative resilience. In the second half of 2022, the case for Chinese equities becomes more compelling, given the strong macro fundamentals, room for stimulus and inexpensive valuations, at a time when developed market and Asian peers are forced to tighten their policies to rein in multi-decade high inflation
Fiscal boost. The pace of recovery will largely depend on magnitude of the fiscal and infrastructure related spending and direct fiscal stimulus to households to revive domestic consumption
Credit easing. In addition to fiscal measures, banks have accelerated loan extension under the PBoC guidance, and government bond issuance picked up notably in response to the State Council's guidance to fully issue the 2022 quota of local government special bonds by end-June and disburse most funds by end-August
Gradual recovery in the making. Following a dip in Q2, we expect China to post a modest recovery in Q3 and potentially a full-fledged recovery in Q4 and into 2023, with full year 2022 growth at 4.0-4.5per cent. Even taking the potential resurgence of Omicron into account, it is less likely that Chinese authorities will adopt a full scale lockdown due to the country's domestic economic concerns and disruptions to the supply chain
Positive catalysts in sight. The ongoing easing cycle to regain growth momentum, improving US-China relations, normalisation of the regulatory environment and the bottoming of the broader Chinese market support our optimistic view that onshore and offshore Chinese stocks could present a very different picture over the next 12 months
Positioning consideration. Given local easing measures in the property market, we prefer some real estate companies amid sector consolidation. We also like companies in the electric vehicle production chain, as EV adoption is expect to increase driven by improvements in battery technology and official net-zero targets
China economic outlook – Policy easing in spotlight to fuel recovery
The first half 2022 has seen the Chinese economy buffeted by multiple shocks including Covid-induced lockdowns, ongoing property slump and consumption weakness domestically, as well as the impact of US monetary tightening and global geopolitical concerns. In considering how the Chinese economic and financial landscape will evolve in the second half of the year and beyond, we have seen encouraging signs and supportive measures to counterbalance the impact from Covid restrictions. This includes Premier Li's latest remarks in mid-June that authorities will do everything necessary to aid struggling small private businesses and boost domestic consumption and job creation. Meanwhile, May activity data - from industrial production to retail sales - also broadly improved from the April trough and beat market expectations, thanks to the easing of lockdowns and gradual business resumption, loosening property policies and fiscal and monetary stimulus.
Overall, the notable rebound in trade and credit data and a recovery in import volumes of major industrial metals in May reinforced the signals from PMIs that Omicron-related disruptions to logistics, production and custom clearing have started to ease. Beijing and Shanghai have set the precedent for rolling back Covid restrictions, while counter-cyclical policy support has stepped up, especially the front-loading of fiscal measures (e.g. tax cuts/VAT refunds), mainly to aid the corporate sector and employment, and support for infrastructure investment and the property sector. Banks have accelerated loan extension under the PBoC guidance, and government bond issuance picked up notably in response to the State Council's guidance to fully issue the 2022 quota of local government special bonds by end-June and disburse most funds by end-August.
That said, credit demand remains relatively soft, as lockdowns have undermined the effectiveness of monetary easing. The recovery of private sector demand may lag any supply-side/ production improvements, as the scarring effects of the zero-Covid policy may still weigh on consumer/ business confidence post reopening. Overall, we expect a modest recovery in Q3 following a qoq contraction in Q2, with the full year 2022 growth at 4.0-4.5 per cent, well below the government's 5.5per cent target.
Going forward, we see a more meaningful recovery in Q4 and into 2023, reflecting the stronger showing of policy easing effects, higher clarity around regulatory frameworks, and Covid policy recalibration i.e. a better balance between Covid control and economic growth, by end-2022. Meanwhile. CPI inflation is likely accelerate in H2, due to the subsiding base effects, rising food/ energy prices, delayed spring planting of grains and some pass-through from high PPI inflation. There are limited signs of wage inflation given lingering labor market slack as inflation expectations remain well anchored. That said, a rising inflation trajectory and Fed policy tightening/ rising global interest rates would be hurdles for policy rate cuts/ monetary easing in China, with PBoC likely to focus more on improving policy transmission through targeted credit support and lowering banks' funding costs. In summary, we believe the pace of recovery will largely depend on magnitude of the fiscal and infrastructure related spending and direct fiscal stimulus to households to revive domestic consumption.
Worst of the Omicron drag could be over…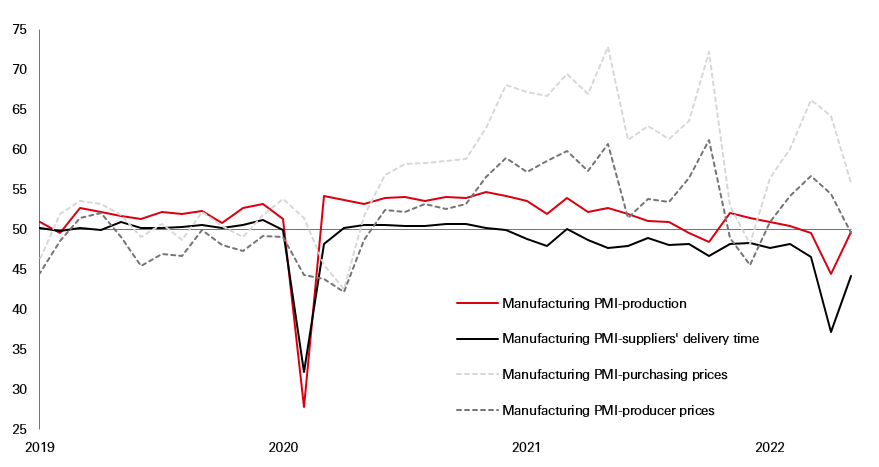 Source: CEIC, HSBC Asset Management, data as of June 2022
China equity market outlook – An inflection point?
In terms of our market outlook, we see signs that sentiment around China may have reached an inflection point, after a period of heighted volatility in the past year due to fiscal and monetary tightening and regulatory crackdowns on education, internet and property sectors. And more recently, Beijing's regulatory rhetoric has signaled some of the scrutiny on the tech sector may ease, with officials pledging to support the development of internet companies. As investors regain confidence in growth companies, the overall index can rerate on valuation multiples
Positive catalysts to support our optimism
In addition to the peaking of regulatory risks, the ongoing easing cycle, improving US-China relations and the bottoming of the broader Chinese market have supported our optimistic view that onshore and offshore Chinese stocks could present a very different picture over the next 12 months. Overall, we think both offshore and onshore China markets, measured by MSCI China and CSI 300, are trading at quite attractive levels, especially relative to their historical valuations, at 10x and 11x, respectively.
Prefer real estate, EV and related sector exposure
In terms of our sector views, we prefer real estate and related sectors for the second half of the year. High-frequency trackers suggest the underlying property demand remains intact in top-tier cities despite lockdowns and weakened consumer sentiment. This would enable property market stabilisation if policies continue to ease. Additionally, we also like opportunities around electric vehicles production chain such as lenses, auto-driving systems, semiconductors etc. EV penetration will continue to increase globally and advancement in system and functions upgrade will benefit suppliers. Amongst internet names we are picking those with higher earning visibility and long term growth turnaround as some companies are very attractive after the sharp price drop
Mindful of downside risks
In term of risk, we may be looking at another round of earnings downgrades due to the impact from Covid restrictions, rising energy prices and weak consumption. In addition, China is likely to maintain a Covid zero-tolerance policy in the near term. But any resurgence in infections is unlikely to trigger a long lockdown due to concerns over the economic consequences. Lastly, we are still cautious about the de-listing risk of Chinese companies in the US. US regulators have requested full access to all relevant auditors and audit papers and have denied the possibility of case-by-case reviews. If there is no proper resolution, some Chinese companies may have to delist from the US early as spring 2023
MSCI China 12M forward P/E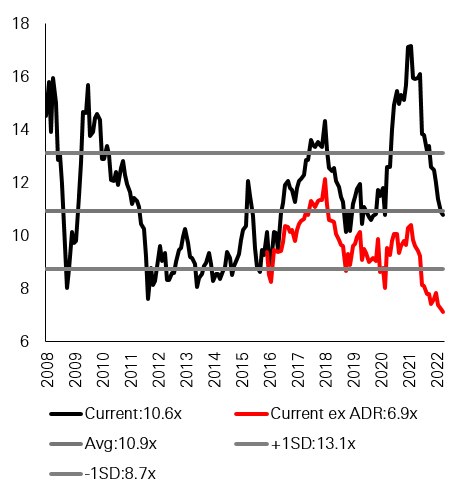 P/E ratio across market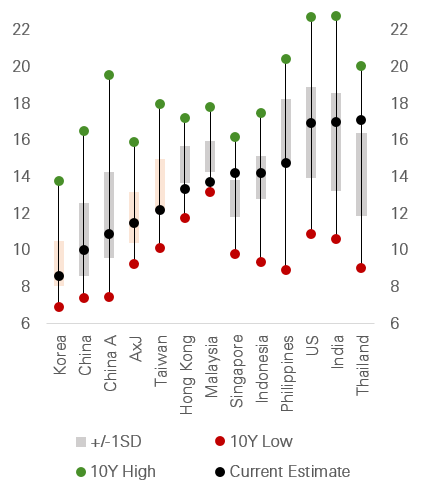 Source: MSCI, Bloomberg, data as of 31 May 2022.
HSBC Chinese Equity Approach
Disciplined and Structured Investment Process
Well-resourced, Research Focused China Team
Competitive track record

Bottom up selection of quality growth stocks, through a repeatable investment process, are structurally classified into three growth categories
Flexible approach enables us to adapt to the unique nature of the Chinese equity market and navigate different market cycles

Over 25 experienced equity investment professionals in both Hong Kong and our Shanghai-based joint venture, HSBC Jintrust offer local insight and experience
Adherence to a globally supported and integrated investment process with a disciplined global risk management framework and shared systems and resources

27 years of experience in managing Chinese equity products for clients. Currently managing over USD13.6bn in onshore and offshore Chinese equities
Related strategy rank in the 1st or 2nd quartile over year-to-date of 2022, 1-year, 3-year and 5-year period, according to Morningstar ranking as of May 2022